Meet the Candidate: Peggy Choudhry, Osceola County Commissioner District 1
"To help better the lives of others is the greatest of all achievements" as
Working with citizens in the community to make sure our children will grow up in a place full of opportunity and given a path for success. #Re-Elect Peggy Choudhry for Osceola County Commissioner District 1. She is The People's Commissioner.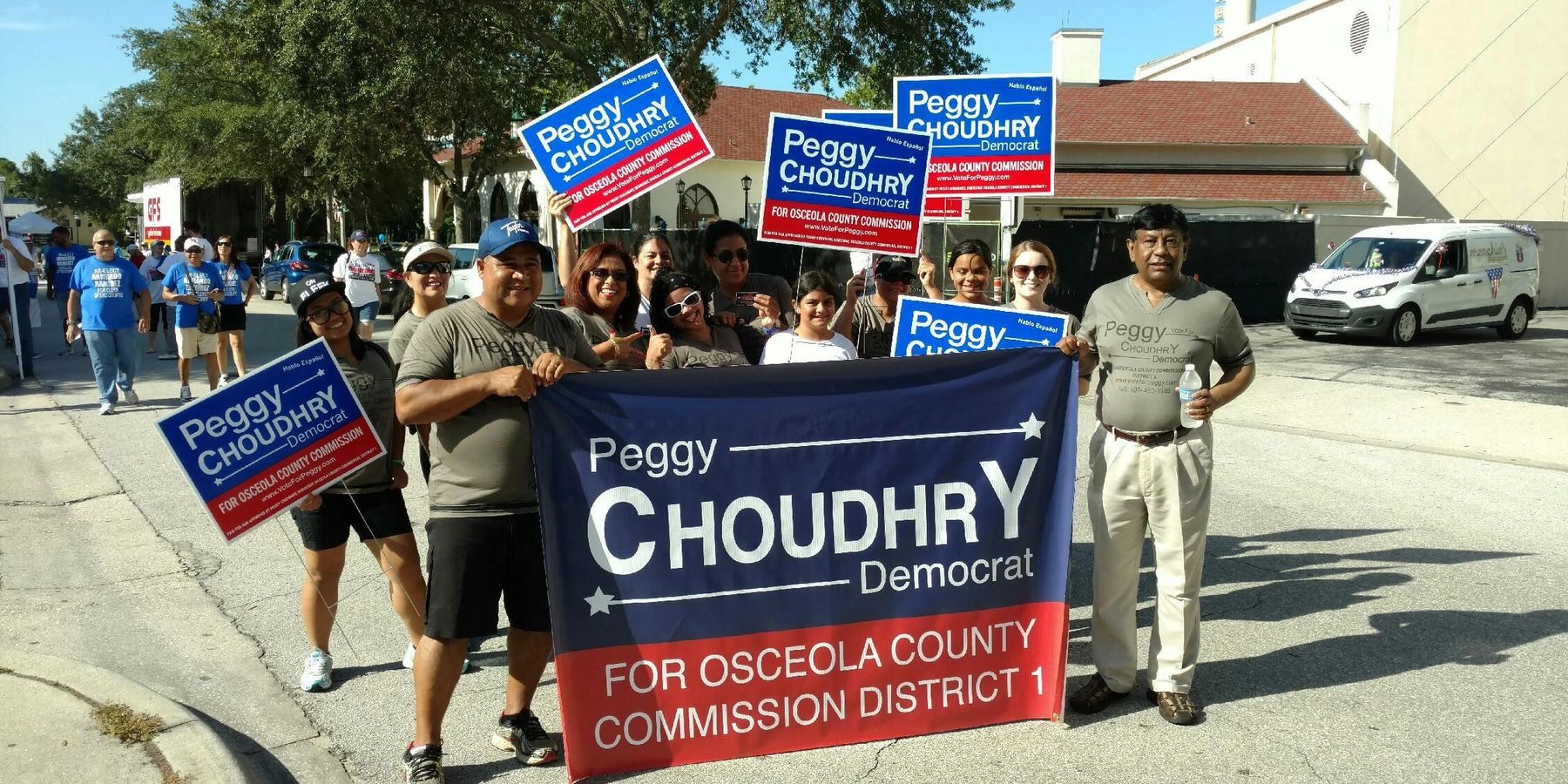 Contact: Info@Peggy@VoteForPeggy.com www.VoteForPeggy.com
Serving since November 2016
Peggy Choudhry, ran for office in 2016 for the first time and won her seat against a two term incumbent. While in office Commissioner Peggy Choudhry hit the ground running. She worked hard to be sure the people's voices are heard by creating a Citizens Committee, Business Committee, a Youtube Channel and conducted several Town Halls throughout her District. Peggy has gone above and beyond the average workload, she has opened her office doors to student interns interested in volunteering and learning all about county government. This has allowed life changing experiences for so many future leaders.
Commissioner Choudhry wanted to be sure that she was accessible to all citizens and available to listen and help resolve concerns. She has stood side by side with citizens on many difficult issues and has worked hard to bring the fresh change the citizens have been looking for in the county. This has earned her the nick name "The People's Commissioner". As an elected official she has been able to bring forward issues and concerns while creating policies and ordinances that has helped our community.
Commissioner Peggy Choudhry, is currently an active board member in many organizations, including: Experience Kissimmee, Hispanic Business Council, Osceola Resort Area Council, Four Corners Area Council, Central Florida Regional Planning Council. She also volunteers for non-profit organizations across Osceola County and continues to give countless hours of community service.
Commissioner Choudhry was born in Providence, Rhode Island. Community service has always been a passion for her. When she was 13, she became the youngest founder to a non-profit organization focused on helping keep kids off the streets. Throughout her high school and college years she kept herself busy helping her community. Peggy was one of the first Feinstein Scholars — given the recognition for her compassion, dedication to public service and determination for making a positive difference in the lives of others.
Commissioner Peggy Choudhry was born and raised in Providence Rhode Island, Her parents immigrated from South America. Both her parents made it a priority for Peggy to learn about her heritage, culture and language. After college, she took a position with the U.S. Department of Homeland Security as an Immigration Officer and within a short time was promoted to Adjudications Officer with Citizenship and Immigration Services in the Orlando district office. Having these unique experiences and diversity within her family Peggy is fully bilingual and understands the hardships and challenges families face when adapting to a new city, county or country.
After several years of service with Federal law enforcement, Peggy decided to follow in her father's footsteps and become a business owner. Peggy successfully owned and managed a small hotel on U.S. 192 in District 1 for over nine years. Currently, she is the President of Hospitality Sidekicks; a consulting firm that helps small hotels find success.
So honored to be known as "The People's Commissioner"